Cheyenne is doing good. I have concerns that she may be showing signs of
Angel Wing
, though. :( I surely hope not. Her left quills that are coming in are splaying out a bit. On the right side, the quills are neatly tucked under her wing. We shall see! I posted these pictures in the yahoo group
petducksRus
in hopes of getting tips and advice. In the mean time, I'm weaning her off starter feed today and adding xtra oats to deplete the amount of protein she's consuming.
You can see here that she's forming green feathers on her face now (yay!)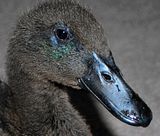 And when she's out, she is now using her
Ducky Diner
from
The Goose's Mother
. Really cuts down on the mess.
Her feathers are coming in more and more. (Note that Cheyenne is a LOT darker than all the pictures I post of her. She's so dark that I have to brighten the pictures up enormously so that you can even see her). I'm going to put her intermediate harness on again today, and hopefully she has grown enough and won't be able to take it off. I'll update later.
With that, here are a few five week photos of her. The first one is my favorite picture of her. I love it when she flaps those little wings!