There is a large "underground" network of indoor duck owners, but information and tips can still be hard to come by. We are always searching for the best or better ways of doing things. After several years of being a MamaDuck, I've finally found the best indoor enclosure to fit my needs and I thought I would share in case someone is looking for a more practical and sanitary option... that doesn't involve a plethora of towels. My Muscovy ducks are getting huge. The large dog kennel lined with towels and drawer liner wasn't going to make the cut anymore. They needed more room and larger food & water dishes. What follows is what I ended up with:
60" Advantek Pet Gazebo
I've already had this on-hand for a couple years and have been happy with the quality. While a little tall, the area size is perfect and it's finish makes it look fairly decent in my home.
60" Kiddie Pool
I got mine at Kmart. I was so happy to find it fits perfectly inside the pet gazebo and can easily be removed for cleaning (which doesn't need to be done often). I sprayed mine with black Krylon Fushion spray paint (Walmart) to cover up the horrible 'eye-sore blue' and cartoon octopusses. I then measured the width of the pen door opening and cut a notch out of the pool with a hack saw. This way, they can come and go when the door is open. The sides will also help protect your walls.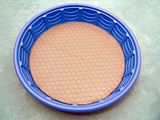 49" EZwhelp Washable Whelping Pad
This is where I hit the jackpot. I was originally searching for a round tablecloth. But, those were never the right size. They couldn't be cut to size because they were stitched, and they aren't absorbant... which would make for a slippery mess. After hours of looking, I decided to search the terms "round pad" on Amazon before I gave up. Couldn't believe I found this whelping Pad made specifically to fit perfectly inside of a 60" pool! It absorbs the liquid poos and leaves the solid on top, making for easy rinsing. There is a waterproof bottom, so the pool doesn't need to be washed often. Tired of poop latching on to the textured fibers on bath towels? You wont be disappointed in this. Lay it flat and rinse it off using a hose nozzle in NO time with no effort. I take mine out of the pool every morning to rinse and I hang dry it on a line while my ducks romp around the house. I only have to throw it in the washer once a week (considering that they are on it only at night time).It is dry and ready to be placed back inside the pool within a few hours. I can't forget to mention, too, that the color itself is nice because the poo becomes less eye-catching when the ducks have their way with it. I also have a desk lamp attached to the side with zip ties. This holds their full spectrum UV avian lamp I've mentioned in a previous post. Hope this helps!