So, Cheyenne is seven weeks old today. I'm SO EXCITED that her intermediate diaper harness officially fits with no problem. Finally, she doesn't take it off and seeing that it was her first day with it on, she was very tolerant of it. We were able to take a nap together with no worries on my end ;D Today was the best day I've had with her.
You can barely see the black harness on her: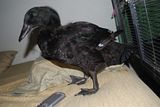 Also, about her Angel Wing. A couple days ago, after having wrapped her, I decided it was just too much to put her through. I felt terrible for making her endure the whole process and decided, since it's cosmetic, and not to risk injury of blood feathers, etc in her struggle, I would let it be.
Yesterday her angel wing looked horrible. Worst it ever had and thoughts of wrapping it started crossing my mind again, but still I let it be.
This morning I wake up and, unless I'm hallucinating, it looks as though it's correcting itself!! All within the night hours! It's crazy. I sure hope this isn't presenting false hope, but I'm excited about it.
Here's her wing today: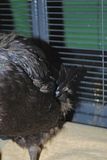 And a couple extra pictures...