I bought a sewing machine months ago.... having absolutely no experience, I was determined to teach myself. That all went down the drain when I started sewing practicing stitches. My machine kept jamming up. Long story short, because I had no experience I didn't know if it was me or the machine messing up. This drove me crazy, because I really wanted to sew my own diaper harnesses. I did a little research two days ago and FINALLY figured out the problem. Good news is, it wasn't me. Frustrating news is all it took was a small turn of a screw to tighten the thread tension and I could have been sewing all these months. lol. So, now, as I'm getting ready to take Donegan on his very first weekend trip this week, I'm in a time crunch to make diaper harnesses.
So I sat down half of the day yesterday and created my very own pattern. And to my surprise it actually worked!
I knew I wanted shamrocks. I knew I wanted a fleece breast lining for comfort, stretch, non fray, and easy adjustments for resizing and reshaping. I knew I wanted a fast drying washable insert that stayed put, a large pouch, and little to no hardware (SIMPLE). Most importantly, I wanted the tail feathers free and the oil gland exposed and accessible. And there you have it:
(click on pics to make larger)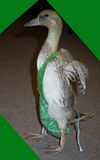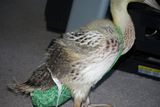 He will be grown out of this one in no time, so I will be back at the sewing machine today. I'm going to get the pattern on paper and scan it onto a PDF file soon, too, with one or two adjustments.
I gotta say, I'm proud of myself for not only creating a pattern on my own, but that the first pattern worked perfectly, and that this was my very first time sewing ANYTHING. So now I'm hooked on sewing... and I'm in trouble! :D UPDATE!
Click here for the pattern!!!!